Motorbike sidecar keeps 'fretful' St Bernard happy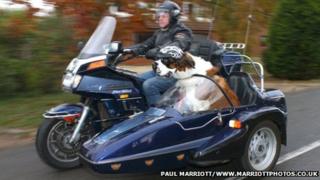 A motorbiking couple have come up with a novel way to transport their dog around Peterborough.
Harley, a 17-month-old St Bernard who does not like being left home alone, accompanies Alan and Tina Valkeith in the sidecar of their Honda Goldwing.
The couple bought the bike as Harley would not fit in their car - a two-door Jaguar - and adapted a helmet, harness, goggles and fluorescent jacket for him.
They took Harley in when his previous owners could not cope with his size.
Mr Valkeith said Harley would "fret" if he and his wife went out without him.
The couple, who describe themselves as "fair-weather bikers", realised they could no longer go out on their motorbikes together, as one of them had to stay at home to keep the 75kg (12 stone) dog company.
"Buying the bike with a sidecar seemed like the ideal solution," Mr Valkeith said.
Protective 'doggles'
Although getting Harley used to his new mode of transport was "fairly simple", finding dog-friendly safety equipment was more of a challenge.
Mr Valkeith had to take an ordinary motorbike helmet apart, mould the protective lining to fit the St Bernard's head, and put it back together again.
Having rebuilt a safety harness he then bought ultra violet-protective dog goggles - which he said were known as "doggles" - to shield Harley's eyes from the sun and wind.
"When I realised he was sometimes getting cold, I took a hi-vis jacket apart and remade it, so it sort of goes on backwards and keeps him warm, and then of course people can see him if it's getting dark," he said.
Harley has travelled in the Valkeiths' sidecar as far as Nottingham and "a trip to the seaside at Hunstanton".
"He really does love it," said Mr Valkeith.
"If Harley even sees me walking towards the garage he runs after me, and when he hears the bike's engine he knows it's time to go out and gets very excited."
Harley and his sidecar can be seen on the One Show on BBC One at 19:00 GMT and afterwards on the iPlayer.