Birdsong CD protects 'largest' East Anglia swift colony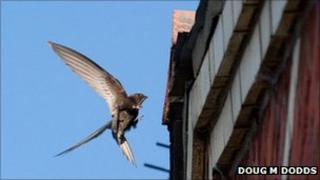 A CD of bird nesting calls has been used to protect swifts during construction work in Cambridgeshire.
The swift colony, believed to be the largest in East Anglia, was discovered in buildings due for demolition.
To encourage them to stay, phased work on replacement homes in Fulbourn took place outside the nesting season and nest boxes were built into the roofs.
The birdsong CD encouraged the swifts to find the boxes and set up new nests in the development.
'Worked brilliantly'
Rob Mungovan, ecology officer for South Cambridgeshire District Council, worked with the development company to put in place the measures to prevent the swifts from leaving the area.
He said: "It was clear that this large colony of swifts had been nesting in the roof spaces of old properties for so long that new boxes needed to be integrated into the roof space of the new homes.
"Using the nesting call of swifts worked brilliantly to attract the birds to the new boxes and it helped them easily adapt to the new surroundings."
The Institute of Ecology and Management has presented Mr Mungovan with a Tony Bradshaw award, which recognises best practice in environmental restoration.
A community swift survey has been set up in the new development, which has now been named The Swifts.