Witchford's 'beautiful' recycling centre opens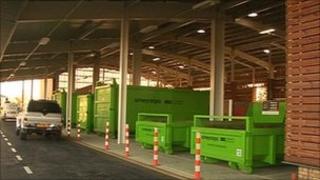 A £5m recycling facility, described as "beautiful", has opened in east Cambridgeshire.
The site, at Witchford, has been dubbed "a cathedral of recycling" by Cambridgeshire County Council, because of its proximity to Ely Cathedral.
The centre is fully-covered and has a "garden roof" that recycles rainwater.
East Cambridgeshire district councillor, Bill Hunt, said: "It's so nice that people are going to want to take their holidays here."
The facility replaces a temporary outdoor recycling site at Grunty Fen, which Mr Hunt described as "charming" and "great for its time".
"This new site elevates recycling to such a high level, it will help take this area from having one of the worst recycling rates in the county, to being the best," he said.
'Two Eiffel Towers'
Simon Lacey, from the county council's waste and planning department, said: "This is the first purpose-built facility of its kind anywhere in the county, and it's the only one that looks anything like this in the country. It's a very beautiful building."
He estimates the plant will recycle more than 12,000 tonnes of material each year.
"That's about the equivalent weight of two Eiffel Towers," he said.
Mr Hunt added: "I can't think of anything we can't recycle here, but I'm sure the public will come up with something we don't know about.
"I don't know how we'd react to a stuffed swan, for example, but anything else, we can cope with."