Fake ID tackled by clubs and pubs in Peterborough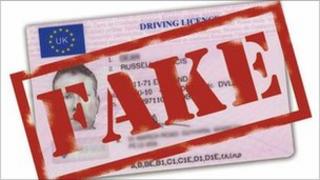 Young people are being warned about the consequences of using fake ID to enter pubs and clubs in Peterborough.
Posters displayed at city venues remind them the offence carries a possible £5,000 fine or a prison sentence.
The campaign is supported by the city council, licensees and the police, who will publicise it in secondary schools.
Door staff are encouraged to seize ID cards they believe to be fake and hand them to the police, who will then contact the owners or their parents.
Inspector Matt Newman of Cambridgeshire Police said: "We are all aware of the potential consequences of underage drinking, including disorder and anti-social behaviour.
"This initiative is designed to prevent young people from coming to harm.
"We have been working with the licensed premises and their door staff to implement a process which will help to tackle this problem."
Pupils from Thomas Deacon Academy in the city helped to design the A3 posters which have been distributed by SaferPeterborough, a partnership of organisations that works to reduce crime and anti-social behaviour.