Alpaca vet referral service in Cambridgeshire "first" for UK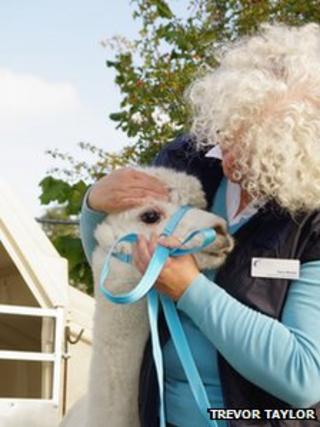 A "wholly comprehensive" veterinary referral service catering for alpacas has opened in Cambridgeshire.
Dick White Referrals, based in Six Mile Bottom, has set up the centre, believed to be the first of its kind in the UK.
The service will be led by vet Karin Mueller, who specialises in the care of alpacas and other camelids.
She estimates there are about 25,000 alpacas in the UK, but said many vets had little experience of dealing with the "genuinely unique" species.
"Alpacas have various body aspects similar to cows, sheep, horses, dogs and cats," Mrs Mueller said.
"There is a saying that they were designed by a committee of other animals and they all wanted a bit of themselves in there."
Herd health
The clinic will offer treatment for both medical and surgical cases referred by other vets' surgeries throughout the UK.
Mrs Mueller will work with specialists in areas including neurology, reproduction and fertility, dermatology, ophthalmology, imaging and lab testing.
The service will also provide advice on alpaca herd health management.
Although there are no specialist qualifications for veterinary surgeons dealing with camelids - the camel family which includes alpacas and llamas - Mrs Mueller has been working with the animals for 12 years.
"My background is in farm animals, especially cattle health, but I made it my goal to learn as much as I could about camelids while working with them for so long," she said.
The surgery will be able to treat llamas as well as alpacas, depending on their size.
"If they need clinical examination and treatment only, it shouldn't be a problem, but there are size limitations in terms of our MRI scanner, which is the same as a those used in hospitals," Mrs Mueller said.