London 2012: Olympic torch route through Cambridgeshire revealed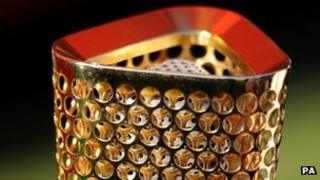 The route the 2012 Olympic torch will take through Cambridgeshire has been announced.
It will arrive in the county on Tuesday 3 July where it will make an overnight stop in Peterborough.
The torch will then visit towns and cities throughout the eastern region before returning to the county on Saturday, 7 July.
After an overnight stop in Cambridge it will travel through St Ives and Huntingdon on Sunday 8 July.
Councillor Martin Curtis, who was appointed member champion for the Olympics at Cambridgeshire County Council, said he hoped the torch would travel by punt on the River Cam for part of its journey through Cambridge.
Before leaving the city, the torch will take centre stage at the Big Weekend, the city's annual, free family festival held on Parker's Piece.
Villages and suburbs
Altogether, the torch will visit four places in Cambridgeshire, but it is not visiting any towns or villages in east Cambridgeshire, south Cambridgeshire or Fenland.
But Mr Curtis said: "Actually we've done really well in Cambridgeshire, if you think about the overnight stops in Peterborough and in Cambridge, and then you look at Huntingdon and St Ives as stop-offs.
"It's just unfortunate that the flame can't be everywhere.
"[The Olympic planners] have achieved 95% of the population within 10 miles of the Olympic flame at one point or the other."
Councillor Janet Goodwin said Peterborough City Council was "delighted that so many of our neighbouring towns will also have the chance to see the Olympic torch".
She added: "We are really excited about the torch coming to our city and have been planning a packed programme of activities and entertainment for several months.
"We hope local residents will embrace the event and come out and get involved to show the strength of community spirit in the city."
'Lifetime opportunity'
Huntingdonshire District Council will help plan the torch's route through Huntingdon and St Ives.
"At the moment the actual street route hasn't been announced for obvious reasons," said Councillor Jason Ablewhite, the council's executive leader.
"Here we have something that is a once in a lifetime opportunity... I think this is a real opportunity for our local communities to really shine and showcase themselves."
The Olympic flame will initially arrive in the UK from Greece on 18 May 2012.
The relay will begin at Land's End, Cornwall, on Saturday, 19 May and end on Friday, 27 July in the Olympic Stadium.
The torch will pass through 1,028 locations including cities, towns, villages and suburbs.