Superstition 'can hinder' black cat rehoming, says charity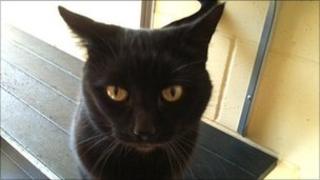 Black cats are being overlooked for rehoming, because they lack the "cute factor", Cambridgeshire animal charities say.
Alan Maskell, manager of Cambridge Blue Cross, said the charity had taken in 15% more black cats than last year.
"Unfortunately we've seen more cats generally, partly for economic reasons, but black cats can take twice as long to rehome as other colours," he said.
"Superstition can also be a factor, as they can be both lucky and unlucky."
Lucy, a nine-year-old black cat, was brought into the shelter when her owner was no longer able to look after her.
"She's been with us for about two months, which is quite a long time. We usually rehome cats within a month," Mr Maskell said.
The shelter currently has 65 cats for rehoming. Of these, 19 are black and four have been at the shelter for over three months.
'Good omen'
"Some people believe black cats are unlucky, but it rather depends on which part of folklore you go for, and which part of the country you're from," said Mr Maskell.
"A black cat turning up unexpectedly at a house in Scotland is usually regarded as a good omen, whereas one turning up in this area often means that it's going to end up at this shelter at some point.
"There's a big tradition of them as witches' familiars, but they're also supposed to be protectors for younger witches and wizards, so that's a good reason for having them."
Beverley Street, of Wood Green animal shelter in Cambridgeshire, said the charity had not seen a significant increase in its intake of black cats, but agreed the animals took longer to rehome.
"They are generally overlooked by members of the public looking for tabby, ginger or white cats because of the 'cute' factor, regardless of their personalities."