Cambridge street pastors run 'safe refuge' for Halloween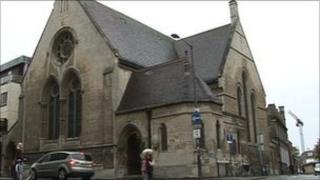 A team of street pastors will run a "safe refuge centre" in a Cambridge church for the Halloween weekend.
The pastors usually work on Fridays and Saturdays but are hoping their centre in St Columba's Church could become permanent.
Pastor Chris Jenkin said the service, staffed by volunteers, was there for anyone "who's perhaps had one too many or just become separated from friends".
A St John Ambulance team will also be based at the church.
Mr Jenkin said: "You can receive the same kind of pastoral and practical help that the street pastors offer, but here you can sit down in the warm, have a cup of tea or coffee, a biscuit or some soup, and have a chat with someone."
The drop-in centre, which welcomes people of all faiths, or none, will also be open over the bonfire night weekend.
"These are both busy weekends, so we felt it was a good time to trial the refuge and build up some evidence to help make a decision about it in the longer term," Mr Jenkin added.