St Paul's protest half-term mothers and children trip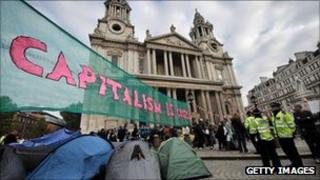 A Cambridge woman has organised a half-term day trip for families to join anti-capitalist protesters in London.
Rachel Mariner started the Occupy Half-Term group to show support for campers outside St Paul's Cathedral.
A small group travelled with Ms Mariner and her two children, and she hoped more mothers and children would join her in the capital.
She said she wanted her children to "soak up the experience of people standing up for what they believe in".
Ms Mariner said she supported the protest because the government was "more responsive to banks than to people, and maybe something should be done about that".
However, she agreed that a trip to the camp was an unusual way to entertain children during the school holidays.
'Nice vibe'
"If you take your kids shopping with you, you get them into... consumerism, and if you take them on a day out and lay down your money, then you have this very prescribed thing that's supposed to be fun," she said.
Ms Mariner added that she was worried about her children's future and said the protesters gave her "some hope".
She has arranged for the Occupy Half-Term group to meet the camp organisers, and attend the general assembly and a children's workshop.
"The first group they're going to meet are Anonymous (UK) - the people with the masks - and they've promised me they're going to answer any questions these kids have about why they wear the masks and what they want," Ms Mariner said.
She added that she had visited the camp a number of times and said it had "a really nice vibe with lots of mums bringing their kids".