Webcam fitted to ram reveals sheep mating habits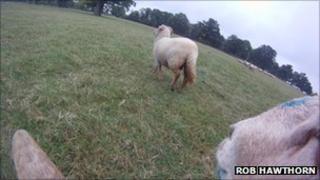 A webcam fitted to a ram in Cambridgeshire is being used to show the mating habits of sheep.
"Ram-cam" has been fitted to the ram as part of a community farming initiative MyFarm, run at the National Trust's Wimpole Home Farm in the county.
The small camera has been connected to Paolo, an 18-month-old Portland ram in his first mating season.
Farm manager Richard Morris said the ram's-eye view would show the public "nature as it happens".
He added: "It may seem a bit strange that we want to follow and even film Paolo as he goes about his business, but farming is all about breeding, growing and harvest, so it's only right that we should come up with ram-cam.
"We hope it will be seen as something that reminds people what it takes to get food on their plate.
"The pressure is now on Paolo to perform."
Spring lambs
The ram is expected to tup (mate with) about 30 ewes over a six-week period and their lambs will be born in the spring.
Mr Morris said that staff would monitor Paolo carefully to ensure that the camera did not get in the way of the ram's everyday life, or cause the animal any distress.
He said that if this proved to be the case, the camera would be removed immediately.
The National Trust started the MyFarm project in May. Its aim is to reconnect people with farming methods.
For a small subscription, "virtual farmers" are able to help make decisions about how the farm is run and which crops are sown.