Cambridgeshire drought hampers potato and sugar beet harvest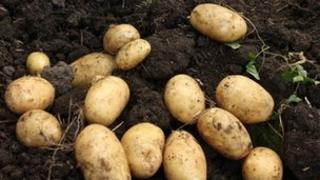 Cambridgeshire's sugar beet and potato farmers are struggling to harvest their crops due to the ongoing drought.
While western areas of the UK are under threat of flash floods, a drought declared in Cambridgeshire in June continues.
George Murfitt, a farmer from Littleport, said: "I can't remember a potato harvest like this before."
The Environment Agency has confirmed that river levels are half that expected at this time of year.
The problem lies with removing them from the soil because the harvesters are not designed to work in such dry conditions.
Mr Murfitt said that despite the dry conditions, his potatoes and sugar beet crops were good.
He said: "As they're going along, they're breaking the sugar beets off, because it's too hard to get them out of the ground, and that's the same with potatoes.
'Need rain desperately'
James Wilmot, who farms at Swaffham Bulbeck, also said he had never seen such conditions.
He said: "I was told on Wednesday by our agronomist that there's a moisture deficit of 17in (43cm), or well over half a year's rainfall on the year thus far.
"We need the rain to help harvest the sugar beet, and we need the rain desperately to get the crops going that we've just planted."
As well as low river levels, ground water levels are unusually low.
James Orr, from the Environment Agency said: "This is the time of year we'd expect ground water to be at its lowest, and they are well down this year.
"Normally we'd expect rainfall to start recharging the ground water, but before that can start we've first got to get the soils wetted down so there's water percolating down through the rocks to recharge the ground water.
"It's perverse that on the same day we're talking about flash floods in the West, we're still talking about drought in the East.
"I guess that's the reality of weather in the UK."