Cuts of £3m to Cambridgeshire libraries 'excessive' says councillor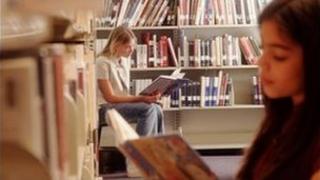 A councillor has admitted that proposed cuts of £3m to library services in Cambridgeshire would be "excessive".
David Harty, cabinet member for learning and libraries at the county council, said "a new model of service" would be considered instead.
This might involve a "restructuring of the service" and a reconsideration of library locations.
He said the council did not know how much it could save with the "new model" but wanted to "protect the service".
A cabinet meeting of the Conservative-led council was presented with an 8,000-signature petition to save 13 community libraries whose futures were uncertain.
It now says that the proposed savings of £3m from the service over a five-year period will be reconsidered.
'Better access'
A county council spokesman said: "It is proposed that no community will lose access to library services but changes may be made in the way they are currently delivered.
"Some communities may even get better access than they currently have.
"Moving to shared premises has the potential of saving the council money from its overall budget as well as joining up services and creating income. This could also give the potential of putting library services in places that currently don't have them."
Mr Harty said the public would be consulted about the new way of delivering library services across the county "within the next three or four months".