Cambridgeshire aircraft crash near A1: pilot named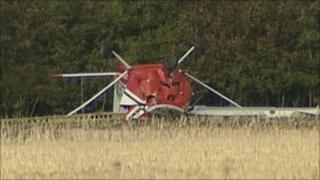 A pilot who died when a light aircraft crashed near the A1 close to Peterborough has been named as a 52 year old from Stratford-upon-Avon.
Clive Greenaway's plane came down in fields at Water Newton, near Sibson Airfield, at about 14:15 BST on Friday.
Both carriageways of a section of the A1 were closed for 24 hours while power lines hit by the light aircraft were repaired.
Mr Greenaway had flown from Long Marston Airfield in Warwickshire.