First Amundsen-South Pole exhibition opens in Cambridge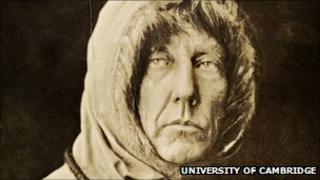 Items used by Norwegian explorer Roald Amundsen who beat Captain Scott to the South Pole are on show in the UK for the first time, at a Cambridge museum.
Amundsen led his team to the Pole in December 1911, more than a month before the British team arrived.
The explorer's knife, snow shoes and even a biscuit brought back by the expedition are among the artefacts.
The exhibition is on show at Cambridge University's Scott Polar Research Institute Museum until 19 November.
Curator Bob Smith said: "This is the first time we've had an exhibition in the UK totally devoted to the life of Roald Amundsen.
"He's always been known as the man who beat Scott but he had a fantastic career as an explorer, and that's never been displayed and shown here before."
'Extraordinary achievements'
Most of the items have been loaned by by Amundsen's family in Oslo and include his reindeer skin coat, watch, camera, compass, flags from the team's sledges and the plates they used for their meals.
As well as reaching the South Pole, Amundsen took part in the Belgica expedition to the Antarctic and led the first team to sail through the Northwest Passage across the top of Canada.
"He was very much a specialist in using sledges, huskies and skis," Mr Smith said.
"He learnt an awful lot from the Inuit in the north of Canada where he spent his early career, and he got a lot of his survival and travel techniques from them."
While Captain Scott's efforts to reach the South Pole were dogged by mechanical sledges breaking down and pack ponies suffering in the extreme cold, Amundsen's reliance on trained dogs and cold weather survival skills he had learned from the Inuit, gave his team the edge.
Heather Lane, the institute's librarian and keeper of collections, said: "In this centenary year of the first attainment of the South Pole, we are keen to make British audiences aware of Amundsen's extraordinary achievements in polar exploration."