Cambridge park is venue for first Eid celebrations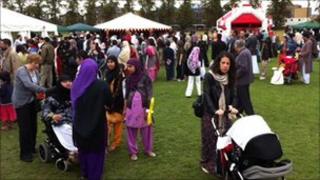 The Muslim festival of Eid is being celebrated for the first time on Parker's Piece in central Cambridge.
The organisers said they hoped the park would hold an annual event to mark the end of Ramadan, the Muslim month of prayer, giving and fasting.
Kashif Mahmood, one of the organisers, said they had booked Parker's Piece for two days because it was hard to know exactly when Eid will begin.
"It's dependent on the sighting of the moon," he said.
He continued: "It's an age-old tradition.
"The night before we look into the sky and we've got a four-minute gap to look up and see the new moon."
Mr Mahmood said he hoped about 2,000 people would attend the celebrations, due to run on Tuesday and Wednesday.
Mr Mahmood said Eid-ul-Fitr was "like Christmas and Easter and all the major festivals" for Muslims.
Muslims do not eat or drink from sunrise to sunset throughout the Ramadan month. They are also asked to donate money to the poor, and pray and reflect upon their faith.
The end of Ramadan is celebrated by the holiday of Eid, when Muslims can enjoy their first meal in daylight.