RAF jets escort Nigerian aircraft to Cambridge airport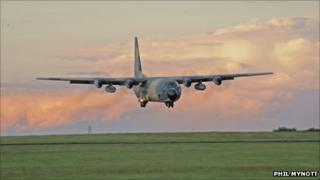 A plane from the Nigerian Air Force has had to be escorted into Cambridge Airport by two RAF fighter jets.
The Hercules was flying into Cambridge for maintenance work but had a radio failure over France and was shadowed by fighters for hundreds of miles.
Its arrival at the airport at 19:30 BST on Saturday was accompanied by a high level of security.
Marshall Aerospace at Cambridge are specialists in servicing transport planes from all over the world.
The escorting RAF Typhoon jets took over from French Mirage jets as the Hercules entered British airspace.
They then circled Cambridge airport for some time before returning to Lincolnshire, while police and special branch waited on the ground.
The Nigerian crew were interviewed by immigration officials before being cleared for entry.
The MoD said: "Quick reaction alert aircraft are launched to intercept aircraft which cannot be identified by another means, i.e the aircraft is not talking to Air Traffic Control, has not filed a flight plan and is not transmitting a recognisable radar code."
The Nigerian aircraft is expected to be at Cambridge airport for four months.