Bicton wind farm public inquiry begins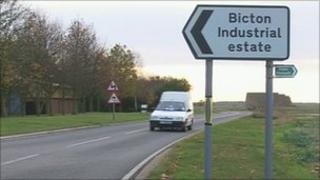 A proposal to build a wind farm in Cambridgeshire is coming under scrutiny at a public inquiry.
Broadview Energy wants to build four 410ft-high (125m) turbines at Bicton near Kimbolton.
But Huntingdonshire District Council rejected the initial planning application in January.
Campaigners say the turbines would ruin the landscape while the developers say it is an "appropriate location" for the turbines.
Olly Buck, the development manager for Broadview Energy Limited, said: "The planning inspector will have an important decision to make in terms of balancing the wider need for renewable energy against the localised impact."
He also said the company had received 338 letters of support.
But Martin Patterson, the chairman of Stop Bicton Wind Farm, said the scheme contravenes local planning policy.
He said: "The district council's own planning document on wind farms specifically states developers should not put even one turbine on the crest above Kimbolton."
Five parish councils in the area have also rejected the plan.
The public inquiry is being held at Huntingdonshire District Council's headquarters in Huntingdon.