Harry Potter's Professor Flitwick on Deathly Hallows II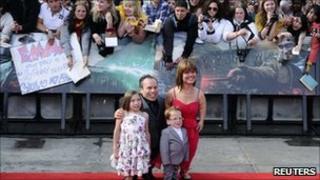 The actor who plays Professor Flitwick in the Harry Potter films has spoken of his excitement after attending the premiere of the final film.
Warwick Davis, from Peterborough, was in London's Trafalgar Square for the first showing of Harry Potter and the Deathly Hallows: Part II.
"When I watched the film last night I felt a great sense of achievement and accomplishment," he said.
"We've made these great films and we're finishing them on such a high note."
In the final film, Mr Davis takes on two roles, that of Professor Flitwick and Griphook the goblin.
Bank job
"Harry does a deal with Griphook to break into Gringotts Bank to try and retrieve one of the horcruxes that he thinks is hidden in a vault there," Mr Davis said.
"It's a terrific character to play because you never know where you are with him. You know it's said that you should never trust a goblin and those words are certainly true when you refer to Griphook.
"What's really good, though, is that people don't realise that I play two parts, because I tried to make them as different as I could," he added.
"Obviously I look completely different. The prosthetic make-up is superb, and you can alter your voice and your body language.
"The only thing that the two characters share is obviously their height. I'm 3ft 6in."
'Potter lives on'
Although Mr Davis is working on other projects for television, he admitted his role in the Harry Potter films had played a large part in his life.
"I will miss it," he said. "It's one of those things you expected to be working on every year for the last 10 years.
"Now, to be looking ahead and knowing that I'm not going to get that phone call and I'm not going to be working with all of that fantastic cast and crew is a little sad.
"But Potter will live on," he added.
"It's finished as far as movies are concerned, but it's not gone."