Cambridgeshire wildlife park's primates produce young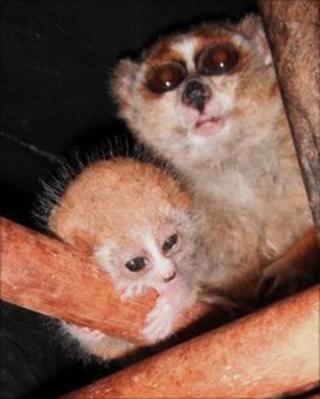 A pair of pygmy slow loris primates has produced their first young at Shepreth Wildlife Park in south Cambridgeshire.
The pair arrived at Shepreth as part of the European Endangered Species Programme (EEP).
The species was almost wiped out during the Vietnam War.
Now there are believed to be 70,000 in the wild but they are threatened by deforestation, the illegal pet trade and traditional medicine practices.
Toxic bite
There are 100 pairs in zoos around Europe taking part in the EEP, a breeding programme run by the European Association of Zoos and Aquaria.
The pair at Shepreth were transferred from other European collections and matched for their genetic diversity.
Rebecca Willers, from Shepreth Wildlife Park, said: "We are delighted to have positively contributed to this programme."
Pygmy slow loris are found in Cambodia, China and Laos, as well as in Vietnam.
They are solitary and nocturnal animals, whose only defence is a toxic bite.
A female loris gives birth to one or two young every 12 to 18 months and is pregnant for around six months.