Peterborough prisoner rehabilitation scheme praised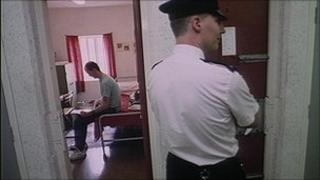 A rehabilitation scheme for ex-offenders being piloted at HMP Peterborough, has been praised by a justice minister.
The social impact bond scheme is funded by investors and provides money for mentors to help ex-prisoners adjust to life outside jail.
Investors receive "payment-by-results" if prisoners do not re-offend.
Prisons Minister Crispin Blunt said the scheme would be used "to help us develop the concept more broadly".
Mr Blunt praised the scheme in the foreword of The Prisons Handbook 2011, published on 4 June.
'World first'
In August 2010, HMP Peterborough secured £5m in social impact bonds to fund rehabilitation work with 3,000 Peterborough Prison inmates.
The scheme is a joint project run by the Ministry of Justice and Social Finance, an ethical banking organisation.
Money raised from charitable trusts and social investment groups is being used to fund rehabilitation programmes for prisoners who have served sentences of less than 12 months.
Mentors help prisoners both before and after their release, with advice and practical assistance with housing, jobs, personal finances and health issues.
In December 2010 the Ministry of Justice announced that it would develop at least six new "payment-by-results" projects in the coming year.
An initial report into the Peterborough Prison scheme was commissioned by the government and published at the end of May.
Secretary of State for Justice, Kenneth Clarke, said: "This report, focused on the planning and early implementation of the social impact bond pilot at HMP Peterborough, is an important step in this government's commitment to payment-by-results and delivery of a more successful criminal justice system.
"Our work here is a world first in any criminal justice system, and I know that this report will not only inform our continued progress in payment-by-results but also be of interest to partners both across the UK and internationally."