Cambridgeshire's Flag Fen Bronze Age site gets £300,000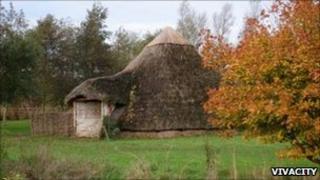 A Bronze Age site in Cambridgeshire has re-opened to the public following a change of management and a five-week programme to improve the facilities.
Peterborough City Council has pledged £300,000 over three years to further improve the 3,300-year-old site at Flag Fen, close to the city.
The council took over management of the site in May, in partnership with Vivacity Culture and Leisure.
It was previously managed by the Fenland Archaeological Trust.
Councillor Matthew Lee is the deputy leader of Peterborough City Council and cabinet member for culture.
He said the joint venture with Vivacity, an independent organisation that runs a number of the city's cultural events, would "secure the future of the site and raise its profile to become a major tourist attraction".
'Rare place'
Flag Fen was discovered in the 1980s by archaeologist Francis Pryor, who uncovered part of a one mile (1.6km) causeway across the Fenland marshes in Cambridgeshire.
The recent temporary closure enabled improvements to be made to the visitor centre and cafe, and install new interpretation panels throughout the site.
Stuart Orme, Vivacity's interpretation manager, said: "Flag Fen is one of the rare places in this country, and indeed in Europe, where you can come along and see uncovered timbers that formed part of a Bronze Age causeway.
"It will now form part of the city's heritage service, linking it with the museum."
He added: "This will bring in more staff and expertise which will encourage a wider interest in the history of Peterborough."