Cambridgeshire guided bus test runs to start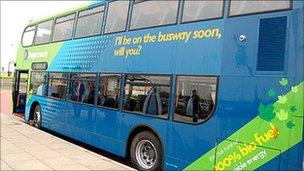 Buses are to start running on Cambridgeshire's guided busway in preparation for its scheduled opening on 7 August.
The county council will test proposed routes and timetables and carry out driver training over a four-week period.
Work on the guided tracks has been completed to allow the buses to run.
The contractor is still working on the cycleway and footpaths which are closed to the public until 7 August.
Ian Bates, Cambridgeshire County Council's cabinet member for growth and planning, said: "As we approach the opening, people will get accustomed to seeing more and more buses running on the route.
"It is now just a matter of weeks before people will be able to bypass the traffic backed up on the A14 by using the busway."
The busway was expected to begin carrying passengers in spring 2009, but the scheme was plagued by delays and contractual disputes between the Conservative-led county council and the original contractor, BAM Nuttall Ltd.
Related Internet Links
The BBC is not responsible for the content of external sites.