Pupils grow 'soup kitchen' for Cambridge homeless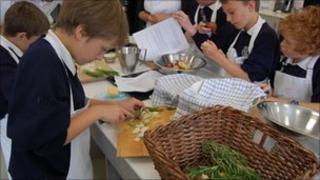 Children in Cambridgeshire have planted, harvested and cooked vegetables from their school garden to create a "soup kitchen".
The Cook-Grow-Share project was devised by the Cambridge charity, Foodshare.
Pupils from Milton Primary School will turn their vegetables into a soup to be served to homeless people in the city.
Foodshare's Mark Desvaux said it encouraged children "to give to others through nourishment" and planned to extend the scheme to more schools.
The charity was started in 2009 when Mr Desvaux and co-founder Dan Spencer realised that fellow allotment owners were growing more than they could eat.
Collection points were set up on the allotments and within three months they had donated £1,000 worth of fresh fruit and vegetables to the local children's hospice.
Foodshare has now expanded across the UK and redistributes surplus allotment and garden produce to more than 250 charities.
The schemes are run by churches, schools and community groups, linking "food philanthropists" with hospices, homeless organisations and other charitable groups.
'Growing to give'
Milton Primary was the first school in the country to sign up to Foodshare, creating a garden to supply fruit and vegetables to East Anglia Children's Hospice and homeless shelters.
Mr Desvaux arranged for the pupils to attend the Cambridge Cookery School to learn how to make soup from their garden vegetables.
The pupils then delivered it to homeless people at Jimmy's Night Shelter in the city.
"We call it 'growing to give'," said Mr Desvaux.
"It's a lovely way for children to learn not only how to grow, but also to engage with the community."
Foodshare has now been invited to join the government's Food Growing in Schools Task Force, which includes Blue Peter gardener Chris Collins, former England rugby union captain Lawrence Dallaglio, the Royal Horticultural Society, Women's Institute and Co-op Farms.
"Over the next six months we'll be meeting in London to talk about food growing in schools.
"The aim is to make every single school in the country a food growing school," Mr Desvaux said.
"We've worked out that if every school in the country takes part in the Foodshare programme, and manages to grow and donate as much food as Milton Primary did last year, that would be the equivalent of around £8m worth of food donated to charities each year."