Recycling saves Cambridgeshire taxpayers £300,000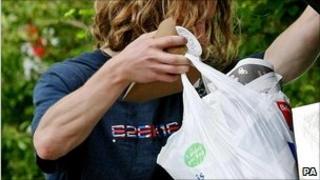 Blue recycling bins have saved taxpayers more than £300,000 during the first six months of use, a council has said.
South Cambridgeshire District Council replaced recycling boxes with bins incorporating a separate paper caddy.
Savings of a further £10,000 per month have been made since the start of the new financial year.
Councillor Sue Ellington said the money was saved by selling more recyclables and putting less into landfill.
"Our blue bins are unique in the county because they have the black caddy which keeps all of the paper separate and clean," Mrs Ellington explained.
"Clean paper is a much more valuable commodity than dirty paper. We can sell it for £100 per tonne and that's quite a big feedback on recyclables."
She said the district council also received a bonus from the county council for reducing the amount of waste it was consigning to landfill sites.
Mrs Ellington added that saving money in areas such as waste and recycling could help protect south Cambridgeshire residents from council tax rises in the future.