Charity started for Cambridgeshire hedgehog hospital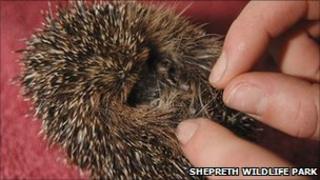 A charity has been started to raise funds for a hedgehog hospital.
Rebecca Willers, from Shepreth Wildlife Park in Cambridgeshire, said charitable status was essential for the park to continue conservation and rescue work.
"Shepreth is really struggling financially and one of the biggest burdens is the hundreds of hedgehogs we get in the winter," she said.
"We desperately need a hedgehog hospital in the region, but it's not something we can afford right now."
She hopes that funds raised through the Shepreth Wildlife Conservation Charity will enable the park to continue with its hedgehog rehabilitation programme, which it has managed for 25 years.
The charity will also contribute to conservation projects working with endangered species throughout the world.
'Influx of hoglets'
The park currently takes in about 50 sick, injured or abandoned hedgehogs and hoglets, usually brought in by members of the public.
The hedgehogs are housed in a shed where they are treated for ticks, fleas and internal parasites.
The park also uses a local vet to treat more serious conditions, or when it is clear that the hedgehog will not survive.
Once healthy, the animals are released back to their original habitats.
Miss Willers said the facility needed to be "at least three or four times the size to cope with an influx of hoglets in the winter months".
"Hedgehogs are having second litters because of the warmer autumns," she explained.
"Normally litters are born in the spring and have the whole summer to get up to an ample weight for hibernation.
"But hoglets born in September or October don't have a chance to get to the right weight and if they're not brought into centres like ours, then they will die."
She added that research indicated that hedgehogs were dying out at a rate of one fifth of the population every four years.
"It has been suggested by 2025, they may be gone from Britain altogether," she said.