Cambridge grocer running for university chancellor post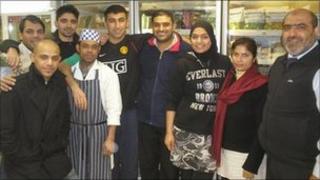 A shopkeeper has decided to stand for the post of chancellor at the University of Cambridge.
Abdul Arain, who owns a grocery store on Mill Road in the city, has gained "well in excess" of the necessary 50 nominations enabling him to stand.
The current chancellor, the Duke of Edinburgh, is due to retire from the post at the end of June.
"It's time to get the common man back in touch with the university, and the other way around," said Mr Arain.
Cambridge University has nominated its official candidate, Lord Sainsbury. However, following a Facebook campaign led by students, the actor Brian Blessed was also nominated.
Mr Arain will stand against both of them when the nominations close on 17 June. The name of the successful candidate will be announced by the university senate in October.
'Not personal'
The grocery store owner has lived in Cambridgeshire for 30 years and has been trading on Mill Road, just south of the city centre, for 15 years.
He is well-known as an ardent campaigner against supermarket giants - including Sainsbury - taking over the small, independent shops in an area known for its mix of cafes, bars, charity shops and small stores like his own.
However, he insisted that standing against Lord Sainsbury was not personal.
"It's all about what one feels uniquely about," he said.
"I think there are a lot of people here who think that Cambridge is once again being attacked by the multiples.
"They think that Cambridge has already been badged a 'clone town' with only one independent shop in the city centre, and they don't want the same to happen to Mill Road.
"I think they feel passionate that this is happening up and down the country."
Family and community
Mr Arain said he was "honoured" to be standing for chancellor. He added that his nomination was achieved mainly through "word-of-mouth" by academics and former students who lived in the area and used his shop.
"It's not just about the students, though," he said. "Those students then become residents here. They are the dons, the masters, the academics and the people in all other walks of life in Cambridge."
He added that he was running for the post because he felt passionately about his family and the local community he worked in, and did not wish to see supermarket chains "depleting the area".
If Mr Arain is elected in October, he will become the 108th chancellor of the university since Hugh de Hottun was first elected to the post in the 13th Century.