Brian Blessed bids to be Cambridge chancellor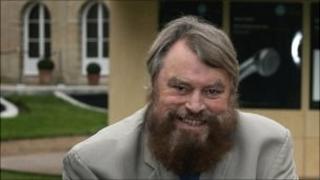 Actor Brian Blessed has announced he will stand for the chancellorship of Cambridge University.
He said he was "thrilled" after a student Facebook campaign gained him enough nominations to stand against supermarket heir Lord Sainsbury.
Local shopkeeper Abdul Arain is also running for the prestigious role, currently held by the Duke of Edinburgh, who is retiring.
Mr Arain said: "I'm standing for the whole Cambridge community".
The election for chancellor is now a race rather than a straightforward handover.
The university only has to nominate one official candidate and has already declared that to be Lord Sainsbury.
Store protest
Any other candidates must win 50 nominations from the university senate by 17 June or Lord Sainsbury automatically becomes chancellor.
Mr Blessed has secured his 50 nominations and has been confirmed as a candidate.
The senate is made up of anyone who has an MA or higher degree from Cambridge.
Seth Alexander Thevoz, who set up the Facebook campaign to get Mr Blessed nominated, said: "Cambridge can do much better for itself. The man, the myth, the legend that is the actor Brian Blessed would make an amazing chancellor.
"Picture him loudly reciting the Latin at graduation ceremonies and you have some idea of what a legend Brian would be."
After the group reached its target the accomplished mountaineer accepted the nomination.
He said: "For me, Cambridge has always been the centre of the earth, there is a brightness and light there that rivals that on Mount Everest. The whole setting is wonderful and enchants the soul."
His competition, Mr Arain, runs a grocery shop on Mill Road, Cambridge and is protesting at plans for a Sainsbury's to open on the same street.
On 3 June he had 40 nominations and was confident he would have the full 50 by 17 June to make the October election.
Mr Arain said: "Cambridge should be an institution that nurtures the community as well as world-renowned educational values."
Whoever becomes chancellor will get a role for life as constitutional head of the university, advising on difficult issues and conferring honorary degrees at an annual ceremony.