Antarctic Monument is unveiled in Cambridge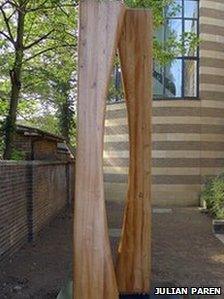 A memorial to polar explorers and scientists who died in Antarctica has been unveiled in Cambridge.
The Antarctic Monument is situated in the gardens of the Scott Polar Research Institute in the city.
The 3m (10ft) tall polished English oak sculpture was designed by Oliver Barratt.
A steel plate at the base bears the inscription: "For those who lost their lives in Antarctica in pursuit of science to benefit us all".
The monument was designed in two parts to be placed in two very different locations.
One section is in Cambridge and the other will be installed either at Port Stanley on the Falkland Islands, or the British research base of Rothera on the Antarctic Peninsula.
The section in Cambridge - a steel needle, was designed to fit perfectly within the oak arms of the city's monument.
The Antarctic Monument was commissioned by the British Antarctic Monument Trust and is intended to "reflect the environmental and scientific link between Britain and the Antarctic, whilst at the same time recognising the emotional and physical separation experienced by explorers".
It is dedicated to those who died in British Antarctic Territory since the first permanent British base was set up at Port Lockroy in 1942.
Professor Julian Dowdeswell, director of the Scott Polar Research Institute, said Cambridge was the ideal location for the monument.
"It is very much a 'polar' city. Cambridge is one of the greatest in the world with both the Scott Polar Research Institute and the British Antarctic Survey located here," he said.
"While many people have gone out to Antarctica in the pursuit of science, this memorial is specifically designed to recognise those 29 British people who have not come back.
"They paid the supreme sacrifice, as it were."
Related Internet Links
The BBC is not responsible for the content of external sites.