Arts groups in Peterborough receive £110,000 boost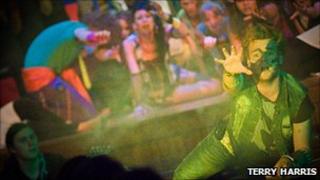 Arts groups in Peterborough have been awarded funding totalling £110,000.
Vivacity, the Cultural Trust for the city, has received £50,000 from the Arts Council to increase the scope of Peterborough's annual festival.
Touring theatre company Eastern Angles has been awarded £60,000 to develop a community play for Peterborough, to be created and performed by residents.
The Arts Council administers the National Lottery funds through its Grants for the Arts scheme.
Ivan Cutting, artistic director of Eastern Angles, welcomed the grant which will be used to create a play, Forty Years On, involving more than 100 local people.
It will draw on research carried out by the Peterborough Archives Service, together with personal experiences, to chart the cultural development of the city from the late 1960s to the present day.
Forty Years On will focus on communities formed by the arrival of London overspill families and migrant workers, and is expected to be performed in 2013.
'Raise arts profile'
The annual Peterborough Festival, the largest public event in the city, will also benefit from the latest Arts Council grants.
Kevin Tighe, chief executive of Vivacity, said: "'This support from the Arts Council is fantastic news for the festival and for Peterborough overall.
"We're confident that the 2011 programme will deliver something for everybody and really raise the profile of arts within the city."
Performers at this year's festival include The Magic Numbers and theatre groups from Brazil, Italy, Sweden and France.
The Heritage Weekend opens the festival and includes a talk by historian Dr David Starkey on Henry VIII's wives.
The Peterborough Festival takes place from 25 June to 10 July.