Doctor in charge of King's Cross 7/7 rescue operation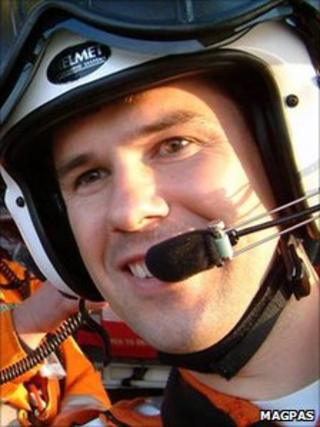 The medical incident officer in charge of the King's Cross rescue recalls 7 July 2005 as being the day he "had to make the hardest decisions of my life".
Working for London's Air Ambulance, Cambridge-based doctor Rod Mackenzie's job was to prioritise medical treatment for those who could be saved.
"You had to run around, assess all the injuries, and leave the dying until you had seen absolutely everyone.
"It goes against every moral fibre of your being," he said.
Dr Mackenzie and three colleagues arrived at King's Cross at 0946 BST, almost an hour after terrorists had set off a bomb on the underground train.
"On the way to an incident you're always trying to gather as much information as you can before getting there, but the real difficulty here... was that there was a lot of conflicting information.
"All we really knew was that there had been an incident on the underground system," he said.
Dr Mackenzie said getting into King's Cross station was "like trying to go into a sports stadium while the crowd is coming out".
"It was extremely difficult for us to establish what had happened and exactly where," he said.
"We were going against the flow of the thousands evacuating the station, some with injuries, many with blackened faces."
'Nothing more'
He sent two of his team in to determine what had happened but when they failed to return he went to find them.
"When I got to the train, I realised why they hadn't been able to report back.
"They were busy dealing with the injured and the dead. They couldn't leave."
As medical incident officer, Dr Mackenzie was in charge of assessing the situation and directing medical staff both on the underground and at the station above.
"Usually a doctor sees one patient at a time or if there are two you prioritise and decide who needs to be treated first," he explained.
"But this was different. You can't prioritise until you have seen everyone.
"You had to make rapid judgements and a mental map of where people were, where the living were, and how badly they were injured.
Dr Mackenzie and his team left King's Cross at 1130 BST.
"We had helped everyone we could help. All the injured had been removed from the train and were being treated above ground.
"Some emergency personnel wanted to stay but there was nothing more that could be done for the people who had died. I had to make the decision to withdraw for the safety of the rescue workers."
Dr Mackenzie was called to give evidence at the inquest into the 7/7 London bombings.
"I found the inquest quite difficult because it brought to light lots of quite harrowing details that people hadn't been aware of, that conveyed the full horror of the day," he said.
"But unfortunately it is my professional role to deal with emergencies on a daily basis, and we've got to move on."
Dr Rod Mackenzie is an A&E consultant at Addenbrooke's Hospital, Cambridge, and consultant adviser to Magpas, the Cambridgeshire-based emergency medical charity.