Health Secretary Andrew Lansley's office attacked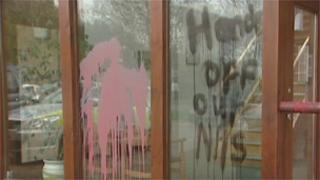 Graffiti has been daubed on the Cambridgeshire constituency office building of Health Secretary Andrew Lansley.
The 54-year-old Conservative MP for South Cambridgeshire oversees the NHS.
Protesters wrote slogans across the front of the building in Hardwick with red and black paint on Thursday night.
The words "Hands off our NHS" were daubed across the front of the building while a window was also smashed. Police are investigating the incident.
A government spokesman said: "Fortunately no-one was hurt and the matter is being investigated by the police."
Mr Lansley has been under fire for changes he is making to the NHS.
A Loughborough binman also recently posted a rap video on YouTube criticising him and it has achieved more than 150,000 hits.
Sean Donnelly, also known as MC Nxt Gen, wrote the track in response to government plans to give GPs more control over England's health budget.
Mr Lansley said he was "impressed" but denied planning to privatise the NHS.
The clip includes the lyrics: "The NHS is not for sale".