Second time lucky for 'too long' Cambridge cycle bridge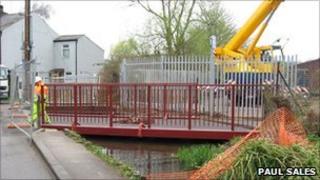 A cycle bridge which was too long to fit across a Cambridge brook when initially installed has now been successfully lowered into place.
Built by contractors Atkins, it was around 60cm (2ft) too long when it first arrived at the site on 15 March.
Engineers have moved the position of the footings to accommodate the bridge, which forms part of a project to improve The Tins cycle route.
The error delayed completion of the route, which will now open next week.
The Tins bridge forms part of a £250,000 Cambridgeshire County Council project to improve the pathway for cyclists and pedestrians in the south of the city.
'It does fit'
Local resident Paul Sales lives nearby and saw the bridge when it was first installed.
At the time, he said: "They picked up the bridge, put it down where it was supposed to go and it didn't fit.
"There was much pointing and scratching of heads and then they picked up their bridge and took it away."
He described it as "a very big error for a very small bridge".
Engineering company Atkins accepted responsibility for the error and corrected it at its own expense.
The second attempt to install the bridge was a success.
"The crane and bridge arrived this morning. They picked it up and this time it fitted," said Mr Sales.
However, he added that not all residents were happy with it.
"We had a charming wooden bridge over the brook before," He said. "This is an industrial, prefabricated structure, painted dark red.
"It really doesn't complement the surroundings. But yes, it does fit."
A council spokesman said: "We are really pleased to see the bridge in place and thank our contractors for working so well and promptly to correct the problem.
"We hope to open the path next week which will be a huge benefit to cyclists and walkers in this area."