University of Cambridge to charge £9,000 course fees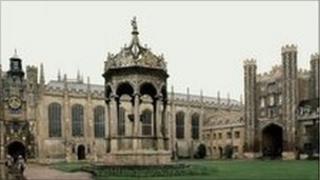 The governing body of the University of Cambridge has voted to set a £9,000 tuition fee, the maximum permitted.
Members of the Regent House have approved plans to charge the the highest possible tuition fees.
Of the 4,000 members eligible to vote on the proposal, 1,387 were in favour, with 416 against.
A spokesman for the university said it would now submit a plan to help poorer students to the Office for Fair Access in support of its proposal.
He claimed the "access agreement" it would offer one of the most extensive and flexible packages of financial support in the UK.
Allowing educational institutions to charge £9,000 has led to widespread discontent among students around the country, leading to sometimes violent protest.
'Outreach work'
The universities of Oxford, Imperial College, Durham, Exeter, Essex, Surrey, Manchester, Warwick, Aston, UCL, Lancaster and Birmingham have already said they want to charge the maximum yearly tuition fee.
Professor Steve Young, senior pro-vice-chancellor at the university, said: "This agreement will include the commitment to spend £9m a year on financial support for Cambridge undergraduates from 2012, in addition to the government's loan and grant schemes.
"Cambridge is committed to providing students with one of the highest levels of financial support during their studies at our world-class university.
"We will also commit to spending an extra £1 million to expand our outreach work which aims to help raise the attainment and aspiration of state school pupils.
"This is in addition to the £2.25 million a year which we already spend on outreach activities."
Vice-chancellor Professor Sir Leszek Borysiewicz said no UK students should be deterred from applying or should have to leave because of financial difficulties.
"Cambridge has one of the highest retention rates of students of any UK university and its graduates benefit from an extraordinary quality of education and employability," he said.
The access agreement includes the Cambridge Bursary, a non-repayable grant, which will be available to students from households with an income below £42,600.
Where a student's parental annual income is less than £25,000, they will receive a full bursary of £3,500 per annum.