Ely Magistrates' Court closes doors for the last time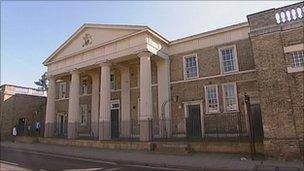 A ceremony has taken place to mark the final day's business at Ely's historic magistrates' court.
The 190-year-old courthouse was earmarked for closure in December 2010 when the government announced that it would shut 93 magistrates' courts.
Community groups are now discussing the future of the Grade II-listed building with the Crown, which owns it.
Mayor of Ely, Brian Ashton, said he hoped the courthouse could be saved for use by the public.
Cambridgeshire will lose another magistrates' court on 1 April when the service in Wisbech closes. Huntingdon County Court will also close, although the exact date has not been announced.
It is estimated that the closure programme will save the government at least £15m a year in running costs.
An additional £22m could be saved in maintenance costs for buildings like the Ely courthouse, which have been described as "out-of-date and under-used".
Justice minister Jonathan Djanogly said changes to the court system would result in a "better, more efficient and more modern" system of justice.
But Mr Ashton said the closure of Ely's court on Thursday would see the end of justice for local people, by local people.
"It's such a sad thing. It's a loss of a service to our community that will probably never be returned," he said.
Cases from East Cambridgeshire will now be heard at Cambridge Magistrates' Court as part of the newly-formed South Cambridgeshire Local Justice Area.
Related Internet Links
The BBC is not responsible for the content of external sites.