Japan earthquake: Lost and found website launches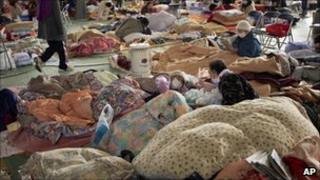 Students in Cambridge have set up a website which they say will help reunite survivors of the earthquake in Japan with their lost belongings.
BelongingsFinder.org uses algorithms and categorisation to link lost and found items posted on the site.
Team leader Stefano Orowitsch said he hoped people would use the site "in the later stages when they want to find lost items of sentimental value".
He added: "But we know that at the moment they have higher priorities."
The idea for the student-funded project came out of a 54-hour intensive Startup Weekend session held at St John's College in Cambridge.
Participants were challenged to build a web or mobile application and develop a commercial case for their product.
'Offering their condolences'
Mr Orowitsch, a German technology policy student at the University of Cambridge, said: "I did not intend to develop this site, but the day before the course I heard the news about the earthquake and the tsunami in Japan.
"I read all of those Twitter posts where people were offering their condolences to the Japanese people.
"Well, it's good to feel sorry, but we have the energy to actually do something.
"I already had my team together and could not justify having four or five software developers around me and not do this project," he said.
BelongingsFinder matches uploaded descriptions of lost property with photographs of recovered property.
"The categorisation and search algorithm system that we've developed has been successfully tested in trial runs and will allow people to file search requests," explained Mr Orowitsch.
"They will be notified when their belongings are found.
"We're also developing mobile applications so that relief organisations can take pictures of belongings that they find and upload them easily."
'Restore their identity'
The team hopes that the Japanese people's adherence to the country's strict lost and found laws will guarantee the success of the website.
The Japanese law concerning lost articles (Ishitsubutsuho, 1899) remains in force and states that any property found must be returned to its owner, or handed in to the chief of police, within seven days of the find.
"We don't think the local lost and found offices will be able to store all the items that have been flooded away, and as the physical infrastructure is largely destroyed, we think online is the only way to go," said Mr Orowitsch.
He hopes that BelongingsFinder can be used alongside sites such as Google's People Finder, which searches for missing friends and relatives.
"While local relief efforts save lives and address immediate needs, we developed this tool for later, when things have calmed down a little.
"The next thing people will want to do is restore their identity, and little things like a photo album or a ring can be so very important," said Mr Orowitsch.
The website has been launched in Japan as Monosagashi.org and Mr Orowitsch said he planned to travel to the country to increase awareness of the site among government authorities and relief organisations.