Cambridge cycle route bridge 'too long'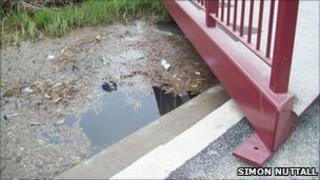 A £250,000 project to improve a south Cambridge cycle route has been delayed because a new bridge did not fit.
Contractors hired by Cambridgeshire County Council lowered the bridge across Coldham's Brook next to the route, known as The Tins, on Tuesday.
Local resident Paul Sales said: "It was at least 2ft (60cm) too long."
A spokesman for the council said: "This is an error made by one of our contractors and they will be paying to correct the fault."
On Monday the council announced that the new route was "nearly complete" and was scheduled to open on 24 March.
Work to widen The Tins, install the new bridge, and improve lighting had been ongoing for 10 weeks when the cycle and pedestrian bridge was installed.
Mr Sales said: "A huge crane turned up followed by the pre-fabricated metal bridge on the back of a lorry.
"They picked up the bridge, put it down where it was supposed to go and it didn't fit.
"There was much pointing and scratching of heads and then they picked up their bridge and took it away. It was very sad and a huge anti-climax."
Simon Nuttall, from the Cambridge Cycling Campaign, said the route was very heavily used by cyclists travelling into the city centre from villages in the south, and it was disappointing that the opening would be delayed.
New date
"It is quite extraordinary how a mistake as big as this could happen in these days of communications and e-mails," he said.
The council admitted that fixing the bridge would delay the project, but was unable to say for how long.
A spokesman said: "We are pressing the contractor to correct this mistake as quickly as possible and it is extremely disappointing that The Tins will not be opening as scheduled.
"We will announce a new opening date as soon as we can."