Cottage-wreck fire in Cambridgeshire was 'an accident'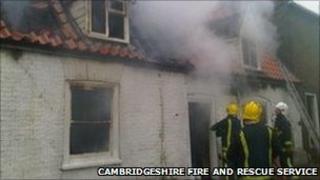 A fire which destroyed a cottage and forced roads in a Cambridgeshire town to be closed was started accidentally, the fire service has said.
Firefighters were called to the semi-detached home in Nene Parade, March, on Tuesday afternoon.
Crews prevented the fire spreading to the next cottage and brought the incident under control by 1800 GMT.
Roads in the town centre which had been closed due to heavy smoke were reopened by police in the evening.
Firefighters remained on site overnight.