Arctic global warming surveyed by Cambridge scientists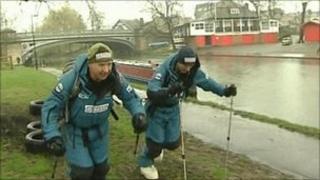 Two Cambridge adventurers are preparing to join a scientific expedition looking at climate change in the Arctic.
Adrian McCallum and Phil Coates are part of a four-man team taking part in the third Catlin Arctic Survey.
Mr McCallum, a PhD student at the Scott Polar Research Institute in Cambridge, said: "The Arctic is one of the first barometers of climate change globally."
The expedition will be recorded by Mr Coates, a former BBC natural history unit cameraman.
'More rapidly'
The team is leaving the UK on Tuesday and the expedition is expected to last for two months.
"Changes in the Arctic are happening more rapidly than anywhere else on Earth," explained Mr McCallum.
As the expedition scientist, he will help deploy research equipment and ensure sea ice and snow thickness measurements are recorded, alongside ice surface observations.
He and Mr Coates have been training for the rigours of the Arctic by tying car tyres to themselves and dragging them around Cambridge's commons.
"It's the closest simulation we can get to the specially-designed Kevlar sledges that we'll be pulling across the ice," Mr Coates said.
"There's only so much you can do to prepare for those conditions," Mr McCallum admitted. "But we've got some great kit that's been designed for the specific roles we're taking on."
Joining the pair are polar explorers Ann Daniels and Tyler Fish.
'No longer liquid'
The team members will carry out observations daily and are expected to carry everything they need with them, including food, tents and scientific equipment.
Mr Coates anticipated some problems working with his photographic equipment in the Arctic.
"There's a good chance that the temperature could be as low as -45C (-49F).
"That's a temperature where LCD screens in cameras are no longer liquid, it's that cold.
"So, trying to touch and operate the cameras in those conditions is particularly challenging," he said.
The data and film collected by the mobile team will be sent back to an ice base for analysis.
"This is a unique collaboration between scientists and explorers to get scientific data that could not otherwise be obtained," Mr McCallum said.
"We're doing science in a place scientists can't usually get to - on the floating Arctic sea ice between the North Pole and Greenland."