Tests for contaminated water at Hauxton could be cut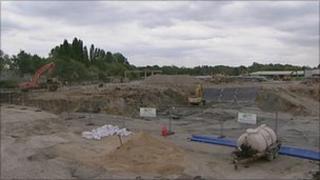 The developer of a former chemical factory site in Cambridgeshire wants to monitor groundwater levels twice a week instead of daily.
Harrow Estates has applied to South Cambridgeshire District Council (SCDC) to alter the frequency of the tests at the brownfield site in Hauxton.
The firm is decontaminating the former Bayer CropScience factory site.
Harrow Estates said it would increase testing if more than 6mm of rain fell within 24 hours.
Groundwater levels would then be monitored twice within the following three days.
SCDC said before Harrow Estates began work it was thought there was more groundwater than has proved to be the case.
The council said its team along with the Environment Agency and aided by the Health Protection Agency were monitoring the clean up.
It prepared what is known as a Remediation Method Statement (RMS) to ensure nearby watercourses are not polluted by chemicals during the clean up.
It is this document Harrow Estates wants to change to allow less frequent water testing.
It said there will be a period of 21 days consultation for interested parties to make their views known.