Hardy barn owls survive cold snap in Cambridgeshire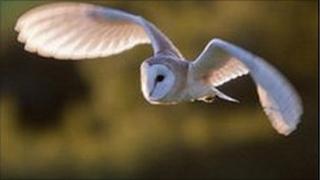 Barn owls at a farm in Cambridgeshire are thriving despite the freezing weather.
Lark Rise Farm near Barton was home to many owls until 1962 when a harsh winter meant many of the species did not survive.
The birds returned to the area 10 years ago and gradually built up numbers.
They are hardy and have so far been dealing well with the recent cold weather, farmer and conservationist Robin Page said.
"When the cold spell hit the area I was continuously on edge. We wondered if we would lose them or would they stay," Mr Page said.
"Several of our conservation group members who visit Lark Rise Farm have seen them and I spotted one last Sunday and it was absolutely fantastic," he said.