Littlehey Prison disturbance: Officers hurt by inmates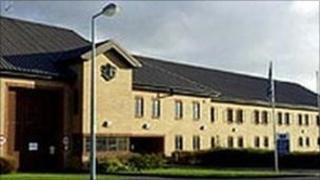 Two prison officers have been injured in a disturbance at a prison in Cambridgeshire.
The incident at HMP Littlehey, near Huntingdon, began at about 1700 GMT.
A Prison Service spokesman said: "A number of prisoners refused to return to their cells following an incident in which two staff were injured."
The Prison Officers Association (POA) said it believed up to 60 prisoners were involved in the disturbance in the young offenders unit.
'Female officer unconscious'
The Prison Service spokesman said the two injured staff received treatment at the prison for minor injuries.
He said: "National resources were immediately deployed and the incident was resolved with little resistance at 9.30pm.
"There were no injuries to prisoners and no further injuries to staff.
"Very superficial damage was sustained on the wing. The perpetrators have been identified and relocated to the segregation unit. They will be subject to disciplinary procedures."
Colin Moses, national chairman of the POA, said he believed a female officer had been knocked unconscious.
He said: "They were trying to bring [the disturbance] back under control. Young offenders were acting in a violent way."
Ralph Vallerio, of the POA national executive, said he believed a jug of hot water containing sugar was thrown at a male prison officer.
'Seriously burnt face'
He said: "It contained sticky sugar so it would stick to his skin.
"It has seriously burnt his face, but it hasn't stuck on his face."
He added: "They set fire to part of the wing and started smashing windows.
"They have smashed tables, chairs, televisions, anything they can break."
Mr Vallerio went to the prison at about 1600 GMT to discuss health and safety problems with the governor and was told of the trouble after he left.
He said the disturbance followed an incident at the weekend when a Littlehey prison officer was hit on the head with a television set.
Following the incident a prisoner was asked to comply with a rub-down search.
"He was found to have a snooker ball in his sock, inside his pocket," Mr Vallerio said.
"He refused to comply with the search. He assaulted the member of the staff, head-butting him."
Since then, prisoners had been "egging each other on" to cause further disturbances, Mr Vallerio said.
'Continuing problems'
A POA spokesman said the incident happened in the young offenders unit, where he believes 200 to 300 people are housed.
He said: "I believe one member of staff was scalded with hot water. The other was assaulted."
They were both treated in the prison's hospital, but have been discharged.
He added that there had been problems at the prison, including brawls and assaults, for the past 12 months.
Specialist officers were bringing the situation under control, he said.
The category C prison was opened in 1988 and consists of eight units.