Draft plan for Littleport unveiled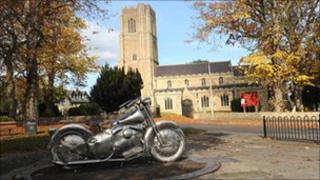 Residents of a market town in Cambridgeshire are being asked for their views on a draft plan for its development over the next 20 years.
The plan for Littleport, near Ely, looks at how to manage future growth. More than 1,700 new homes are expected to be built in the town by 2032.
Its population is expected to rise from 8,800 to more than 13,000 in that time.
More information about the plan, drawn up by East Cambridgeshire District Council, is available on its website.
The plan says the six key aims are:
To provide residents with a network of green spaces that connect the town to the countryside
To balance future growth and focus on the west of Littleport as it has good existing road networks
To ensure housing growth is linked to a growth in employment and ensure there is enough land for businesses
To expand community facilities such as new schools
To strengthen town centre shops and improve the look of the town
To make sure transport links are good for people walking, cycling or using motor vehicles in and around the town
Councillor Peter Moakes, chairman of the Littleport master plan working party, said: "Throughout the master plan process, we have seen how passionate the people who live and work in Littleport are to making the town a better place.
"This work has thrown up some very exciting ideas and concepts which we have tried to incorporate in the draft plan.
"It is really important that you now take your chance to have a say - don't leave it for others to say how Littleport should look on your behalf."
The consultation, which will include exhibitions, runs until 21 February.