Cambridgeshire volunteers help people stay at home
By Patrick Byrne
BBC News East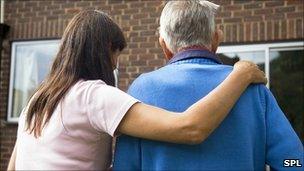 Older people in Cambridgeshire are being helped to continue living in their own homes by 250 volunteers recruited from all walks of life.
This group is going to be called on increasingly in east Cambridgeshire over the next 20 years when the over 50s population is set to grow by 2.3%.
Research for the BBC by public sector analysts Experian has measured national growth in this group at 1%.
Age UK Cambridgeshire said caring for people in their own home was now a priority.
Gloria Culyer, chief executive at Age UK Cambridgeshire, said about 15% of the over 50s population would need social care at some point.
However, the numbers of these people was increasing all the time and Age UK was deeply grateful they had so many volunteers with the skills and experience to visit those in need.
Cambridgeshire County Council has cut its social care budget by about 25%.
The worst case scenario faced by the county's social services was a 40% cut, according to Rod Craig, director of the county's adult social care services.
Care services were financed at a level where the need was substantial and critical, he said.
"The aim is to set the system on its head with the first priority being to keep people in their own homes but to have care available for those with the greatest need," he added.
The county's strategy is to support older people in need and enable them to live independent, healthy and active lives.
However in a predominantly rural area it was important to cultivate local activities and events that encouraged involvement in the community, Ms Culyer said.
In east Cambridgeshire the district council has obtained government funding for a programme alongside leisure centres to put on tea dances, badminton sessions, Tai Chi and other activities.
A new session will be launching on Monday at the Burwell Community Sports Centre with activities like kurling, new age bowls and chair-based exercise.
Peter Cresswell, chairman of community services, said: "What I like best is about this programme is that it brings people together.
"I have lost count of the number of friendships I have seen formed or old friends who have found a great excuse to catch up."
Related Internet Links
The BBC is not responsible for the content of external sites.