Cambridgeshire fire hose donated to orang-utans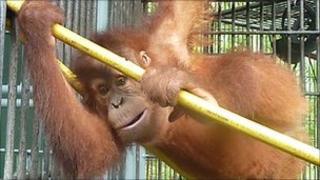 Orang-utans in Indonesia are being helped to prepare for their return to the wild by some old fire hoses no longer needed in Cambridgeshire.
Crews from the fire service donated an old fire hose no longer fit for use to the Batu Mbelin Orang-Utan Quarantine Centre in Sumatra.
The hose was put in the rescued orang-utans' enclosures to help regain muscle strength and build physical fitness.
The hose also lasts longer than rope, the fire service said.
'Huge effect'
Orang-utans are brought to the centre shortly after they have been rescued from captivity.
They are then nursed back to health and encouraged to fend for themselves before being released into the wild.
Cambridge University wildlife researcher, Hannah Rose Trayford, contacted the service in 2009 to see if it was possible to donate lengths of hose to the centre.
Ms Trayford studied how to improve the animals' rehabilitation and said the use of fire hoses had "a huge effect" in helping the animals.