Royal Anglians memorial unveiled at Duxford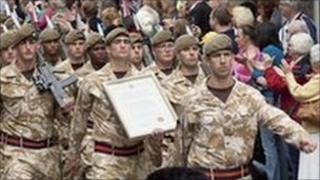 A memorial to the Royal Anglian Regiment has been unveiled at the Imperial War Museum at Duxford.
The memorial to soldiers from the East Anglian Regiments and Royal Anglian Regiment was unveiled by their Colonel-in-Chief HRH The Duke of Gloucester
It will commemorate the 78 soldiers who have died on duty in past conflicts including Aden, Northern Ireland, Iraq and Afghanistan.
Family members of soldiers killed in the conflicts attended the unveiling.
The Royal Anglian Regiment recruits from the East of England and part of the East Midlands including Northamptonshire.