Survey on 'ill effects' near clean-up of Hauxton site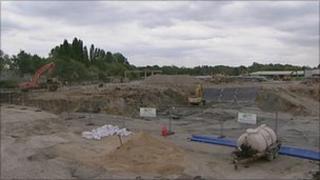 Hundreds of people living near a contaminated site in Cambridgeshire have suffered ill effects, an action group has said.
Work began in March to clear the old Bayer CropScience site in Hauxton, causing a foul smell in the air.
Experts have said the fumes are unlikely to pose a health risk.
HauxAir, which is campaigning for clean air, said more than half of the 402 people it surveyed said they had suffered health problems.
These included sore throats, headaches, feeling sick and difficulty breathing.
It believes its survey is the first time symptoms have been collated as the area around the site is covered by about 40 different GPs.
The results have been given to South Cambridgeshire District Council, which said it is working with experts to examine the issues.
In July, the Health Protection Agency (HPA) said tests showed that solvents in the air are at levels comparable to a freshly-painted room.
Developers are digging up contaminated soil, which releases odours previously trapped underground.
The clearing of the site is due to be completed in autumn 2011.