Cambridgeshire 'needs investment to continue success'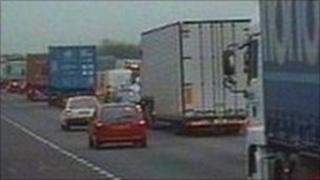 More investment in transport and homes is needed if Cambridgeshire's economic success is to continue, a business leader has warned.
The concerns were raised after a BBC-commissioned survey highlighted the success of Cambridgeshire businesses.
The research suggested that South Cambridgeshire has England's highest number of exporting firms.
Cambridgeshire business leader John Bridge said continued investment was vital for the local economy.
The study, conducted by Experian, said that Cambridge "enjoys a very high proportion of highly qualified workers".
The city also includes "very few people with no qualifications", the research found.
The report also suggests that South Cambridgeshire and Cambridge council areas have high numbers of growing businesses.
While South Cambridgeshire has had very few insolvencies in the past nine months (the fifth fewest in England).
But the area has been hit by business concerns with its road networks.
In June long-heralded £1.1bn scheme to improve part of the A14 in Cambridgeshire, one of the busiest roads in the East, was suspended as part of government plans to save money.
The road would have been widened to six lanes between Cambridge and Huntingdon.
John Bridge, chairman of Cambridgeshire's Chamber of Commerce, said: "Clearly Cambridgeshire has had its challenges.
"This area has been starved of the necessary investment for infrastructure in all forms.
"While we have been an economic powerhouse this will not continue without investment.
'Essential link'
"The A14 is absolutely key if you are going to continue to get the investment from international companies."
As well as being vital for the transport links from the container ports of Felixstowe and Harwich, he said improvements to the A14 were needed to allow development of homes near the road.
"It is an international road of international significance," said Mr Bridge.
"There are so many people who believe it is an essential. There is a difference between cost cutting and investment [in the A14] - which will give you a return."
He said the road was "too frequently" blocked "causing chaos" on the road.
He said he hoped the abolition of the East of England Development Agency would not stop region-wide strategic planning with regards to, for example, transport.
Mr Bridge said he hoped the strong Cambridge economy could soak up any job losses through the abolition of the EEDA and NHS East of England.
"Within both Peterborough and Cambridgeshire we seem to be able to generate the jobs, but, like with all things, success does not follow automatically.
"You have to integrate the ingredients and housing and transport are key factors - it is all interlinked."
A State of the Region debate is taking place on BBC Radio Cambridgeshire on the Andie Harper Show starting at 0900 BST on Friday.