Armed robbers target Peterborough bookmakers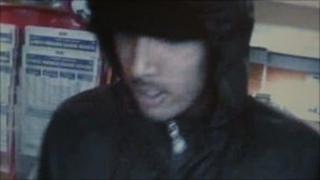 Two armed robbers have raided a bookmakers in Cambridgeshire.
The men were wearing balaclavas with their hoods pulled up when they went into Coral in Hampton Court, Westwood in Peterborough on Thursday evening.
One carried a handgun and the other a sawn-off shotgun. Customers and staff were threatened and told not to move.
The men then fled the shop with a large bag of money and are believed to have got into a car in Gransley Rise and driven off.
Police have released a CCTV image of a man they want to speak to in connection with the inquiry.