Neolithic art find at Cambridgeshire village quarry dig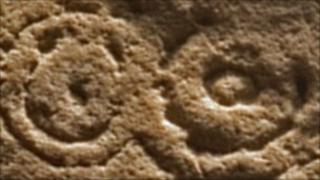 A piece of Neolithic rock art has been unearthed during a weekend geological course in Cambridgeshire.
The hand-sized artefact discovered in the village of Over is unlike anything previously found in the east of England, Cambridge University said.
It consists of a slab of weathered sandstone with two pairs of concentric circles etched into the surface.
Archaeologists believe it is typical of art from the later Neolithic era and could date back to 2500BC.
It was found by Susie Sinclair, a participant in a geological weekend course which was being run by the university's Institute for Continuing Education.
'Fantastic find'
The university said the find could provide more information about the connections of the communities who inhabited the area 4,500 years ago.
Researchers say that it could represent the ornamental efforts of a Prehistoric Picasso, but may just as easily have been an aimless inscription.
"It really is a fantastic find; certainly we have had nothing like it from any of our sites before," said Dr Chris Evans, director of the Cambridge Archaeological Unit.
"The big question in the case of the Over stone is whether we should actually be calling it meaningful art, or if it amounted to no more than Neolithic doodling. Either way it's a great find."
Miss Sinclair had been digging at Hanson Aggregates' Needingworth Quarry.
The remains of several settlement clusters from the late Neolithic period have already been found there.