Modernist design collector, Ken Stradling, dies aged 100
By Jonathan Holmes
BBC News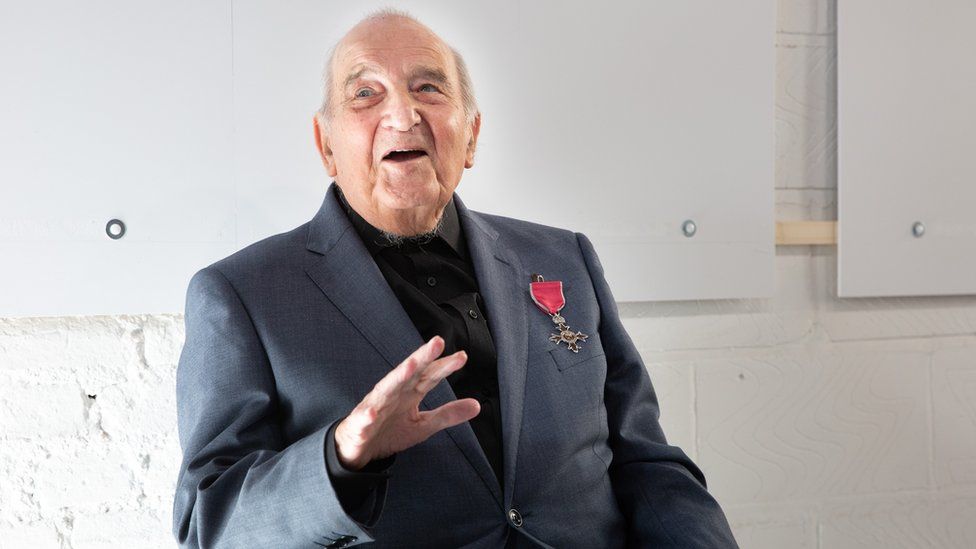 Ken Stradling, a crafts enthusiast whose passion founded a collection in Bristol, has died aged 100.
Mr Stradling started as a buyer of the Bristol Guild in 1948, leading to a 60-year career of collecting ceramics, glass, and furniture.
"He had his finger on the pulse until the very end," said Tanya Martin, curator of his collection.
He was awarded an MBE in 2020 in recognition for his services to Bristol's cultural life.
"He didn't just collect objects, he collected stories to do with the makers, with the artists," Ms Martin added.
"I will miss him terribly, but he will miss us more.
"His collection will stay here - it will live on in his memory," she said.
The Ken Stradling Collection was founded on 48 Park Row in 2006 when Mr Stradling retired and established a charitable trust to give it a permanent home.
The nationally significant collection narrowly avoided being sent to the V&A Museum.
"Through Ken's generosity and vision, the Stradling Collection is and will remain a jewel in Bristol's cultural crown," said Cleo Witt, collection trustee.
Mr Stradling was still contributing to his collection just two weeks before he died, sending in a Wedgwood jug for cataloguing.
"He was in love with everything Scandinavian, we called him an accidental collector.
"He never set out to do this, but just kept on buying.
"A lot of people come from Bristol and they say they have no idea that we existed, but we want to spread the word and make as many people aware about us now that Ken has died," said Ms Martin.
Mr Stradling's funeral will take place on 16 August.
Related Internet Links
The BBC is not responsible for the content of external sites.